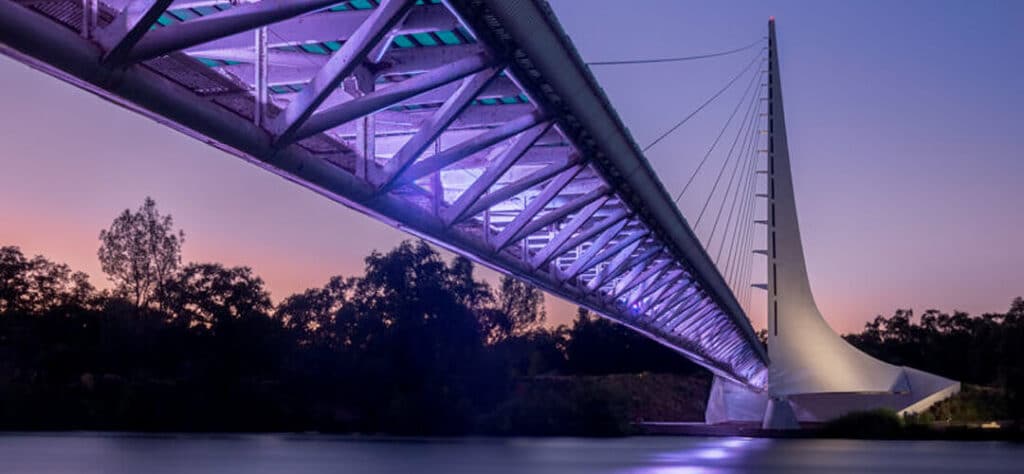 Redding, California, is a nature lover's paradise, situated on the banks of the Sacramento River amidst picturesque mountains. Known as the Trail Capital of California, this town offers a plethora of outdoor activities year-round.
"Whether you choose to bike, hike, run, fish, kayak, or sail, the town's abundant sunshine all but guarantees a fabulous time in any season of the year."
The iconic Sundial Bridge is a must-visit, combining a pedestrian bridge with a functioning sundial, designed by architect Santiago Calatrava.
Turtle Bay Exploration Park is another attraction, featuring the Sundial Bridge and the Turtle Bay Museum. You can stroll along the boardwalk, explore the McConnell Arboretum & Botanical Gardens, and witness the stunning Garden of Lights during the holiday season.
For outdoor enthusiasts, the Sacramento River Trail provides a paved loop for biking or walking along the river. Redding's art scene is vibrant, with the City Hall exhibiting local artists and the downtown area adorned with colorful murals.
Don't miss a show at the historic Cascade Theatre, where live performances entertain audiences.
Visit Shasta State Historic Park to experience a partially restored ghost town and learn about the region's Gold Rush history.
Whiskeytown Lake, located just west of Redding, offers opportunities for boating, fishing, and hiking. Further north, the Shasta Dam offers a chance to witness the impressive engineering feat while enjoying panoramic views of the area.
If you're up for an adventure, head to Mount Shasta Ski Park in winter or take a scenic lift ride during the warmer months. Lassen Volcanic National Park, about an hour east of Redding, showcases stunning volcanic landscapes and outdoor activities.
When it comes to dining, From The Hearth is a local favorite, serving delicious breakfast and pie. Black Bear Diner offers homestyle American dishes, while Woody's Brewing Company pairs craft beer with tasty bites. Mosaic provides a cozy setting for a diverse range of dining options.
For accommodations, the Sheraton Redding Hotel offers elegance and convenience near the Sundial Bridge. The Gaia Hotel & Spa provides a relaxing retreat with scenic views, and the Bridgehouse Bed & Breakfast and Puente House offer charming accommodations in downtown Redding. Evergreen is a unique boutique hotel located near historic downtown, featuring comfortable suites above a popular coffee shop.
Redding, California, promises an exciting and enjoyable experience for outdoor enthusiasts, history buffs, and food lovers alike.
Read the full article at: https://www.travelawaits.com/2550185/things-to-do-in-redding-california/